Millions of people visit Fethiye every year but which are the Best Hotels to Book in Fethiye. Fethiye has long been a favourite vacation spot for travellers thanks to its expansive white sand beaches, the Aegean Sea's clear seas, and its verdant hillside scenery.
Best Hotels to Book in Fethiye
As a result, this section of the Turkish Riviera offers a wide range of accommodations, from luxurious resorts to basic, inexpensive hotels. We list the top accommodations in Fethiye.
Destination Page: Things to see and explore in Fethiye
---
Harbour Suites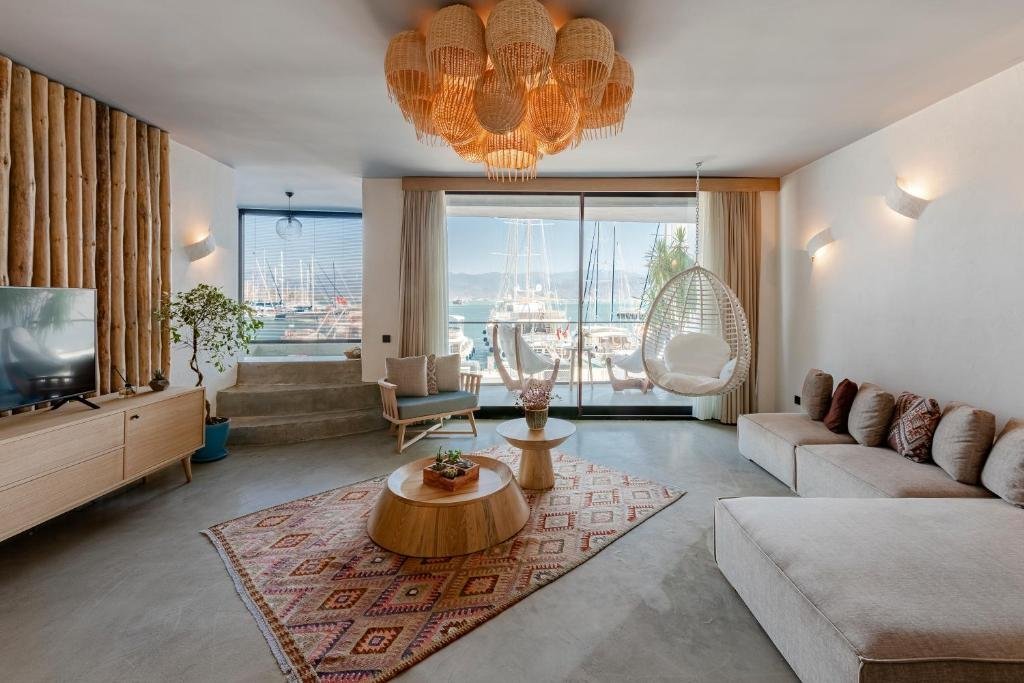 The Harbour Suites in the heart of Fethiye, which is nautical but pleasant, is the perfect place to stay for tourists seeking a little luxury while nearby all the activity. The warm suites are available in various sizes and feature light, natural decor and excellent views of Fethiye Harbour. For a genuine treat, request the room with the bathtub overlooking the harbour, this hotel is one of the best Hotels to book in Fethiye. The superb in-house fare of Ruzanna restaurant will keep you well fed, and both residents and visitors adore the freshly baked goodies.
---
FETHIYE 7 DAY WEATHER
Ada Dreams City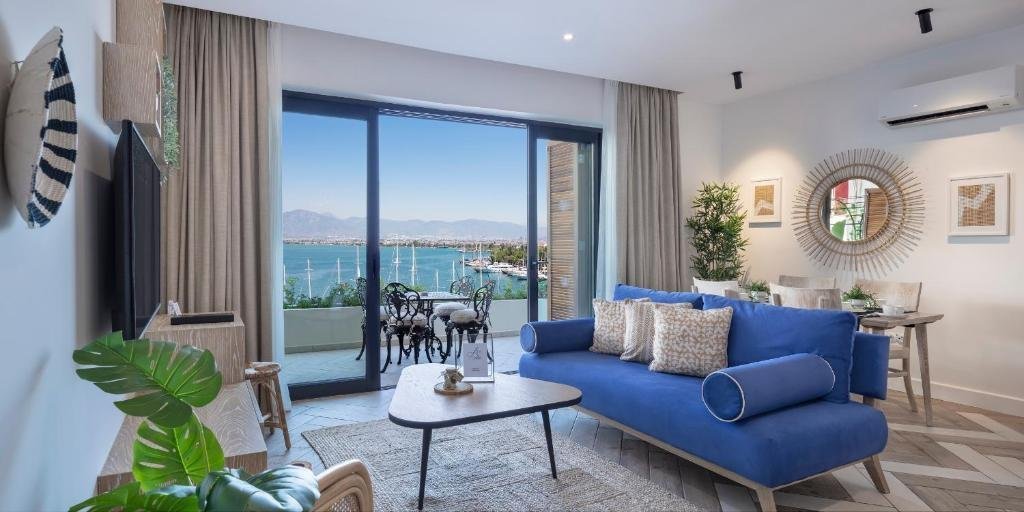 Ada Dreams City is a charming boutique hotel that offers five exquisite suites with views of Fethiye's harbour and is a short distance from the city's bazaar, bars, and nightlife. Even while it may be crowded outside, the interior is serene and tranquil thanks to smart, minimalist design that uses pops of blue to reflect the Aegean Sea in the harbour outside in the furniture. Enjoy the lovely and functional communal living room and kitchen spaces while lounging on your balcony. They are outfitted with everything you could possibly need, this hotel is amongst the best Hotels to book in Fethiye.
---
Yacht Boheme Hotel-Boutique Class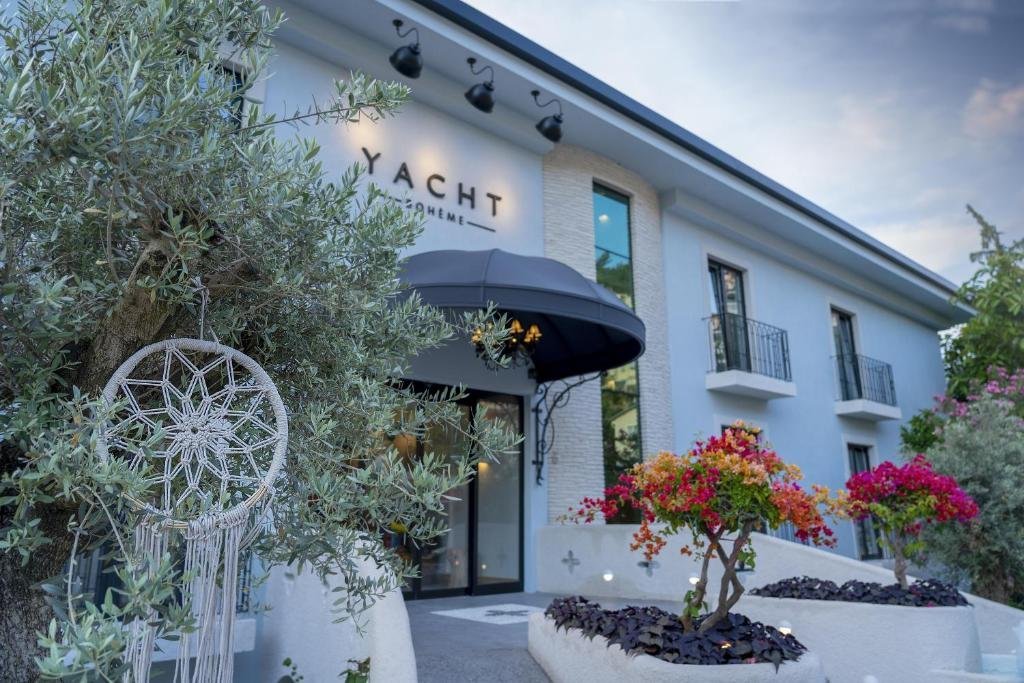 This upscale boutique hotel is a great delight, with a choice of rooms that exude an air of luxury and stylish bohemian interiors. From straightforward double or twin conventional rooms to exquisite penthouse suites with your own own jacuzzi and private terrace space, there are accommodations here to suit everyone and is one of the Best Hotels to book in Fethiye. Whatever you decide, relax in the opulent pool area where the on-site Mandala restaurant and bar serves up delectable beverages. Everyone is welcome to visit the sister hotel Yacht Classic's spa centre, which is 150m (492ft) away and has a Turkish bath, sauna, and a variety of spa services.
---
Orka Boutique Hotel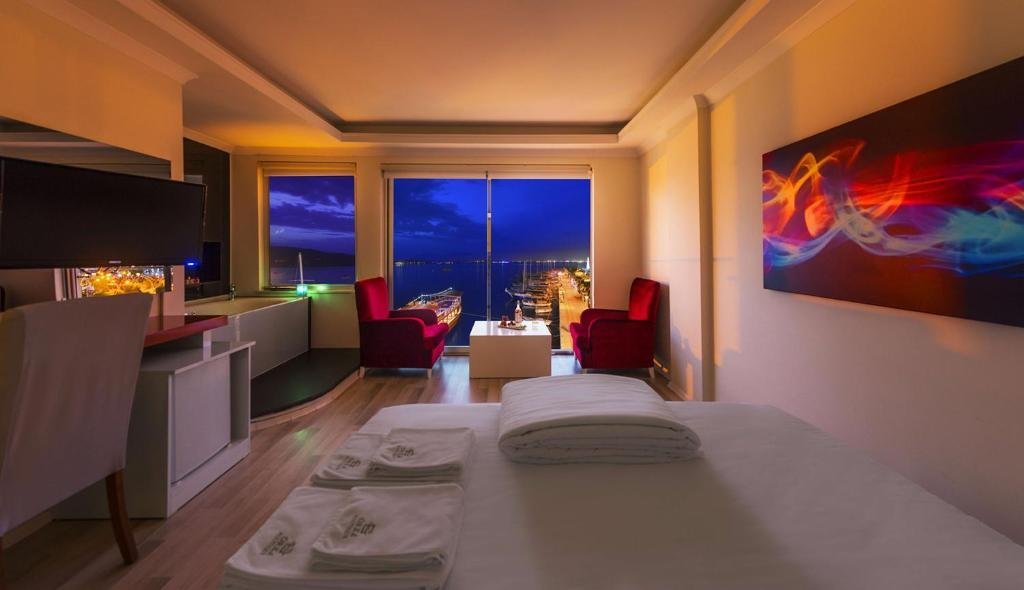 Orka Boutique Hotel is a stunning boutique hotel in the centre of Fethiye with stunning views of the sea and the mountains in the background. It overlooks the harbour. Staying here offers the best of both worlds: a relaxed stay while yet being in the heart of everything the city has to offer. It features 22 individually designed rooms and innovative architecture throughout. Try the on-site restaurant, Carnival, which has a fantastic harbour and sea view, before venturing outside. Along with a tantalising range of regional Ottoman food, the restaurant offers a stylish worldwide menu that includes Mexican wraps and quesadillas, Californian-style hamburgers, and homemade pasta in the Italian way. The is by far one of Best Hotels to book in Fethiye for obvious reasons…
---
Ten Apart Hotel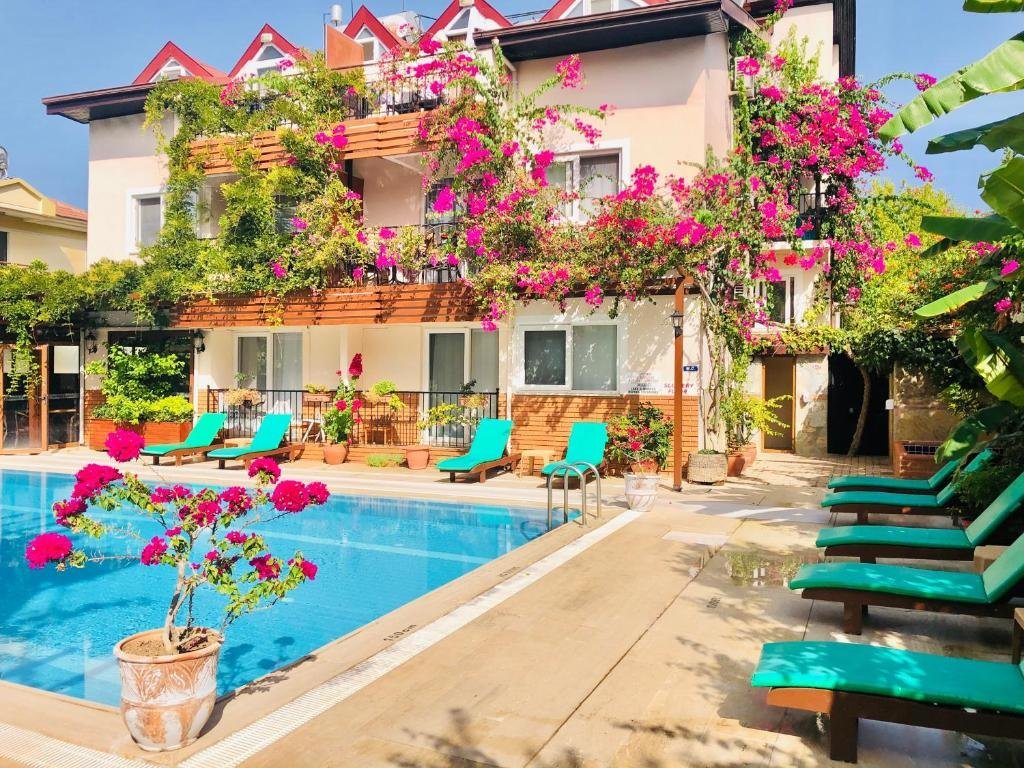 There are 18 self-contained apartments in this stylish, modern building in Fethiye's Mugla neighbourhood, just a few blocks from the sea. These apartments are perfect for families, larger groups, and people who prefer to self-cater, and they all have fully functional kitchens. On the lush, green patio, there is a wonderful pool with lounge chairs for sunbathing during the day. The hotel organises enjoyable activities like boating and parasailing over the clear bay. The small hotel is one best Hotels to book in Fethiye for someone with a limited budget.
---
Yasemin Hotel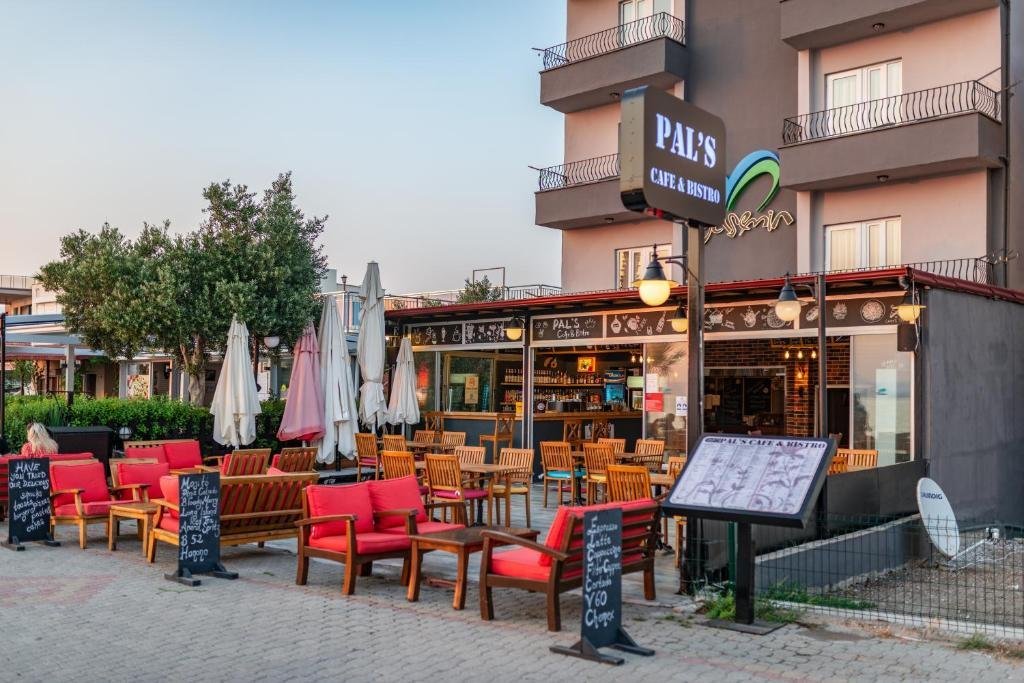 Another outstanding building by the idyllic The Yasemin Hotel at Calis Beach is a contemporary hotel that stands out from its neighbours because to its unique boutique design features and meticulous attention to detail. Choose between doubles or twins with a sea or land view in one of the 20 chic, modern rooms, all of which come with air conditioning and satellite TV. The rooms feature clean lines and vibrant bursts of colour. You may eat your classic Turkish favourites while you watch the sun set over the bay at the à la carte beach restaurant. Yasemin Hotel can be considered Best Hotels to book in Fethiye weeks getaway to Fethiye.
---
Uras Beach Hotel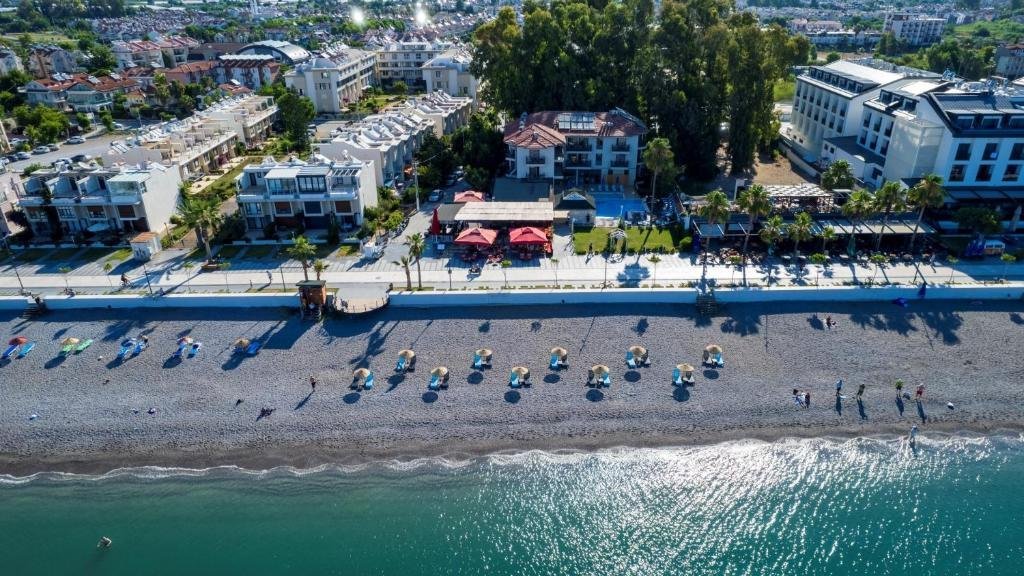 The Uras Beach Hotel is a charming little hotel located in the centre of Calis Beach, right on the water's edge. Its ideal for families and couples and is one of the Best Hotels to book in Fethiye. It offers kind, inviting service that will make you feel at home. In line with its Aegean environment, the stunning beachfront pool area is adorned in pristine whites and rich blues, making it the ideal place to unwind. The on-site Middoor restaurant, which features oriental flavours on the menu, is decorated with elegant, natural furnishings. For the best in regional fish, head to Zoi Fish Restaurant on the lawn.
---
Hillside Beach Club
The breathtaking Hillside Beach Club resembles a scene from a dream. Along its own beach, the opulent resort is tucked away in nature and features a contemporary bohemian decor throughout. There are always activities to keep you active without leaving the poolside if the soothing sounds of the ocean and the tranquilly of the poolside loungers are too relaxing for you. These activities include water polo, aqua fitness, and other pool games. Aside from the world-class Sanda Nature Spa, which is situated on Silent Beach and has seven private therapy rooms where you may receive Balinese spa treatments, three excellent restaurants are sure to disarm the senses.
For flights to Tukey visit the National Airliner Turkish Airlines at www.turkishairlines.com