During the summer hot summer days ayran is the best method to relieve one's thirst. Ayran is considered which is produced by combining yoghurt, water, and salt, is a staple of Turkish tables and is regarded as the national drink for Turkey.
It's becoming hotter every day as summer approaches. You probably sweat more during the summer than during the winter, therefore you should consume eight to nine glasses of water daily to avoid becoming dehydrated. Water is not the only thing that may quench your thirst, though. You can substitute other drinks, snacks, and sweets that are high in water. Every country and culture has its own special foods and beverages for slake the thirst. For example, Japanese people like kakigori, a shaved ice delicacy filled with syrup and condensed milk, while Italians favour affogato, a smooth ice cream drenched in a cup of espresso. Ayran is the most popular summertime beverage in Turkey, followed by cack and haydari.
The non-alcoholic national beverage of Turkey is called ayran and is created from yoghurt, water, and salt. Making this beverage on your own is really simple. Simply combine the ingredients listed above to your preferred taste and thickness. It not only satisfies thirst but is also incredibly healthful. There is no sugar in it. During the summer, when one can dehydrate and lose salt, which can be hazardous to one's health, drinking salty ayran is one of the few quick ways to consume sodium (salt). In addition, yoghurt, which is rich in calcium and protein, has unquestionable health advantages.
One of the staple beverages of Turkish culture that dates back to Central Asia is ayran. Ayran is believed to have been created by the Gokturks thousands of years ago when they diluted bitter yoghurt with water to enhance its flavour. From Turkey, this beverage's fame has extended to other continents. Ayran is now available practically anyplace that serves drinks in Turkey, including international fast-food franchises like Mc-and Donald's Burger King. Ayran is also found in Iran, Iraq, Afghanistan, the Balkans, Lebanon, Azerbaijan, Armenia, Kyrgyzstan, and throughout the Caucasus in addition to Turkey. These regions use a variety of names for this beverage. Ayran is known as "dhalle" in Albanian cuisine, "then" in Armenian, "ayryan" in Bulgarian, and "ariani" in Greek.
The ayran, which has a distinctive foamy head and creamy flavour, is well recognised for being produced in the small town of Susurluk in the Balkesir Province of northwest Turkey. The components are essentially the same as in regular ayran, however in Susurluk restaurants, ayran is circulated through a faucet at high speed to produce a frothy texture with a heavy creamy top and less salt than in regular ayran.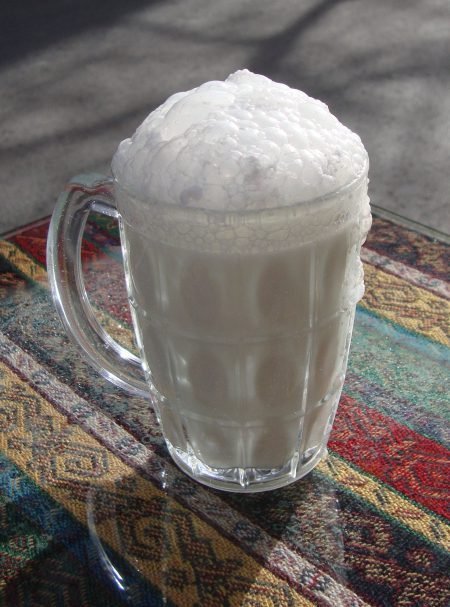 Ayran is typically served chilled as an appetiser because it is a summertime beverage. Along with main course items, it complements doners, pastries, and kebabs fairly well. Ayran is compatible with a number of fast foods and street foods. Ayran can be consumed with or without mint.
Simply put, you can make another dish called cack, which is made of yoghurt, salt, olive oil, crushed garlic, chopped cucumber, and mint, by diluting it with less water and adding cucumber pieces. Cack can be eaten as a mezze alongside other meals and is typically prepared to go with grilled meats. It has a soup-like consistency when served as a side dish after being severely diluted with water. In many nations, it is available in various variants. Cack is also referred to as tzatziki in Greek, tarator in Balkan, and jajeek in Iraqi cuisine.
A variant kind of yoghurt with certain herbs, spices, and garlic is called haydari. The key distinction between this recipe and cack is that it does not call for cucumber. It is exclusively offered as a mezze and is said to taste saltier and more sour than cack.
You should go to a restaurant and order cack and haydari along with your main course dishes if you want to try them. A restaurant isn't necessary, though, to enjoy ayran. Many vendors in Istanbul's tourist locations are more than happy to fill a cup with ayran from the containers on their backs so you can cool off before continuing on your journey.