A successor state of the Seljuk empire, Karamania existed until its final subjugation by the Ottoman Turks in the late 15th century. Karaman has retained ruins of the Karamanid castle and of two fine mosques.
Karaman is the first Anatolian town that declared Turkish as its official language in 1277 AD during the times of the Karamanogullari period, in order to establish Turkish unity in Anatolia. Today, every May 13th is celebrated as Language Day in this province, the anniversary of the declaration.
Karaman is formed by Karaman (center), Ayranci, Ermenek and Kazimkarabekir districts. It covers an area of 9.237 square kilometers (3.566 square miles) and its population is over 250 thousand (2016). Karaman became a province of Turkey in 1989.
Karaman fortress is a massive structure on top of the hill overlooking the city. In the slopes below the castle, there are foundations of a palace complex from the Karamanid Principality period. Horse carriages tours of touristic spots of the city are arranged from the castle.
Hatuniye Madrasa hosts exhibitions throughout the year. The tomb of Mevlana's mother, Mumine Hatun, is located inside Aktekke's mosque. There is also an elegant clock tower next to the mosque. The tomb of the world-renowned Turkish Sufi mystic and folk poet Yunus Emre can be seen next to Yunus Emre mosque on Avi Emir avenue. Some other sites of Interest are Seyh Celebi and Akca Mescit, Maraspoli Cave, Bicakci Bridge and Ala Bridge.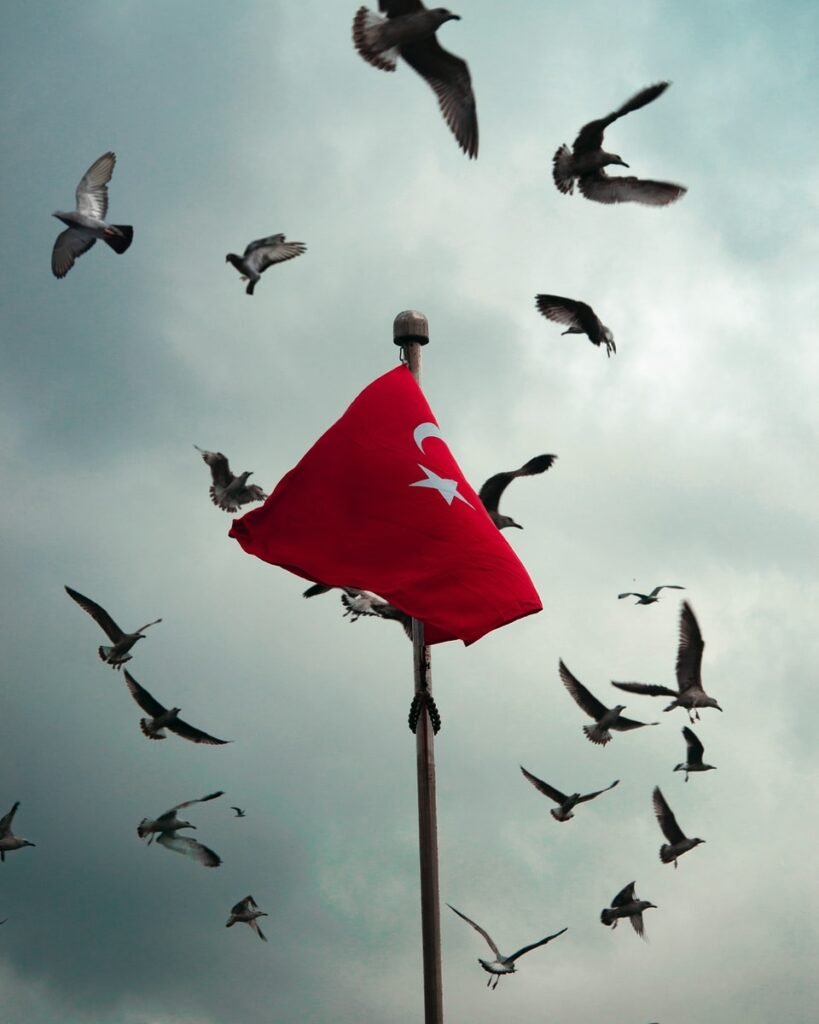 At the City Culture museum, ethnographic artifacts are on display. Kugu (Swan) Park is a pleasant recreational area located in the city center with decorative pools and wooden bridges.
Just outside of the city there is an extinct volcano called Karadag which became a nature and sports park with international paragliding competitions and a traditional Turkish archery park. One of the most important early Christian monuments in this area is known as Binbir Kilise (1001 churches).
In the Ermenek district there are some old structures such as the Great Mosque, Mennan castle, Tol madrasa, and Zeyve market. There are also several vineyards in Ermenek. The Ermenek House of Art and Culture is a Photography museum where old photos of the Ermenek district, a nostalgic collection of cameras, and million-year-old fossils found in the region are exhibited.
This province is also famous for its special breed of sheep and delicious yogurt. Some traditional dishes of Karaman are Calla which is a vegetable casserole, bulgur rice dishes and a bulgur kofte called Tarhanabasi, Batirik which is a cold salad-like soup, Divle tulum cheese, sheep's yogurt, Ermenek's halva with pekmez (grape molasses) and thin bulgur halva with ice cream as dessert. Some local gifts and traditional crafts that can be found in the province include Taskale carpets and old pocket watches.
Karaman: Significant dates for the city:
Commemoration Ceremonies for General Kazim Karabekir, at Kazim Karabekir district, January 26th
Culture and Art Week, Karaman center, May 5-12th
Celebrations of Language Day, Karaman center, May 13th
Celebrations of Day of the Province, Karaman center, June 21st
Cherry Festival, Basyayla district, June 25th
Honey Festival, Sariveliler district, August 29th
Apple Festival, Karaman center, September 26th
Yunus Emre Cultural Festival, Yesildere town, September 29th
Commemoration Ceremonies for Mader'i Mevlana, Karaman center, December 10th
On the 29th of March 2006, a Total Solar Eclipse has been seen in Karaman at 13:59 pm local time.
Karaman Museum
The museum is located at the city center on the former Hastahane Street now named the Turgut Ozal Street and behind the Hatuniye Medresse which is one of the best examples of the architecture of the Karamanogullari Principality Era.
In Karaman and its environs traces of a large number of civilizations both from the pre-historic and historic periods are evident. Today both Karaman and the nearby region display a large number of mounds and historical sites. However as museum activity had a late start in Karaman, many of the portable works discovered at these sites were removed to other museums. Motivated by the notion that this rich archaeological and ethnographic heritage should be protected at its place of origin, the first museum was established in 1961 at the Tourism Association and Library with the support of some local administrators and prominent members of the Karaman community. In 1963 it was moved to a building in the market area, in 1966 to Imaret (almshouse) of Ibrahim Bey, in 1968 to a rented house and was finally opened to the public in its present building in 1971.
The museum is a two-story building. On the lower floor, there is a second exhibition hall, storage areas, a photography laboratory, workshop and the library. The exhibition hall on the upper floor consists of two sections and the material is exhibited in several cases. In the archaeological section, there are works from the Neolithic Age to the late Byzantine. In the ethnographic section there is material from the Seljuk, Anatolian principalities, Ottoman and the Republican periods. In the museum garden stone works belonging to the Byzantine and the Turkish – Islamic period are arranged on the grass with Roman tomb steles making up the bulk of the material displayed.
Among the material exhibited, the Neolithic – Chalcolithic Age findings from the Canhasan Mound excavations are particularly interesting. Canhasan Calcolithic age findings displayed in cases consist of baked earth cups and pots, human and animal figurines, stone axes, obsidian arrowheads, scrapers made of bones, small artifacts such as bracelets and necklaces, seashells ornaments, necklaces made with blue apatite stone and grinding stones from basalt.
In several displays of the museum you can see material from the Bronze Age, pottery found at the Sisanin Mound and the Gokce village, black and dark gray colored polished pottery belonging to the Western Anatolia Yortan culture; Hellenistic Period findings from Mersin – Gelindere, Mugla – Iasos, Adiyaman regions and from around Karaman; Roman period material from Karaman – Taskale, Bayir, Karacaören and Kazimkarabekir areas such as human and animal figurines from baked earth; oil lamps, small pitchers and plates, lachrymatories and perfume bottles from the Roman and Byzantine periods; wood lids, box sections, cosmetic boxes, bronze roses, gold jewelry, bronze oil lamps from the Byzantine period and samples of Byzantine ceramics; coins from the Greek, Venetian, Roman, Byzantine, Princedom, Karaman Dynasty, Ottoman and the Republican periods; Urartian bronze bracelets and figurines and offering plates; stone stamp seals and cylindrical seals from the early and late Hittite periods; cauldron, tray, plates, medicine cups, mortar, lunch box and ewer with geometrical design and plant decorations from the 14th and 19th century Seljuk and Ottoman periods found around Karaman.
In the Ethnographical section there are tiles and mosaics, enameled and over and under glazed tiles, plaster relieves, and tiles from Canakkale and Kütahya belonging to the Seljuk and Ottoman periods; woodwork of the mother of pearl inlayed coffer, clogs, spinning wheel, hand mill for grinding coffee, coffee coolers, mirror cases, spoon container, measuring cups, musical instruments; examples of hand-knitted socks and gloves which are still reproduced in the region; samples of silver jewelry, hair ornaments, coined fez and pocket watches; samples of bells of the various size used for different animals; Korans from the Karaman Dynasty and Ottoman periods, decrees written in the courtly style, religious court decisions and Ahi Evran Fütüvetname, the document which defines the rules which governed the guilds. Apart from these, in two table cases, there are examples of objects such as weapons, gunpowder containers, candle cutters, spoons, door handles, whips, seals, cigarette holders and worry beads.
The museum also displays traditional rug and kilim samples which are hung as panels between the display cases, and Aesculapius statute in the Archeological Materials Hall, one facade of a Sidemara type sarcophagus and a mummified female body from the Byzantine period.
In the lower floor section of the museum, there are cupboards, doors, shelves and fireplaces removed from Karaman houses and they are all mounted onto the walls. This section also contains some agricultural tools. However, this part of the museum may not be opened to visitors at all times.
In the upper floor, besides the administrative offices, there is a gallery where the artistic works of the students and the citizens of Karaman are exhibited periodically.
Source for Karaman Museum: Ministry of Culture and Tourism.
Nearest Airport
Airport Name: Konya Airport
Address: Büyükkayacık, Vali Ahmet Kayhan Cad., 42250 Selçuklu/Konya, Turkey
Code: KYA
Elevation: 1,031 m
Phone: +90 332 239 13 43
Serves: Konya and the Surrounding area
We highly recommend booking international and domestic flights with Turkish Airlines. Visit www.turkishairlines.com for prices and times.
If you wish to travel by bus or car please give the details of your journey so we can recommend a local transfer service. You must allow 3 days for us to make suggestions.
All companies we recommend are licensed by TURSAB. It is merely a recommendation we do not take any responsibilities for any of the services recommended on this website.