When it comes to health tourism, Turkey is well-known for its over 1,000 Hot Springs in Turkey, known as kaplca in Turkish. Many people believe these thermal springs have therapeutic capabilities, which is why the elderly are drawn to them, however they may be an enjoyable vacation for everyone. Turkey is the ideal place for psychological and physical renewal, with one of the best climates in the world, beautiful environment, and one of the healthiest cuisines. This post provides amazing location choices for all ages and budgets if you're seeking for the best spots for a trip in a thermal spring resort.
Gazlıgöl Thermal Spring in Afyon
Gazlgöl's thermal spring, located around 22 kilometres from Afyon's city centre, treats rheumatism, cardio-vascular difficulties, digestive and intestinal complaints, kidney ailments, urinary tract and metabolic disorders, and skin and orthopaedic problems. Carbon dioxide, sodium bicarbonate, sodium chloride, bromide, and fluoride are abundant in the thermal spring.
The most well-known thermal hotel is Oruçolu Thermal Resort, which employs thermal waters from the Gazlgöl Thermal Spring to treat a variety of ailments. Oruçolu Thermal Resort is preferred by many tourists seeking a cure due to its capacity of over 500 beds and high-quality service.
Ilgın Thermal Spring in Konya
Ilgn Thermal Spring in Konya's southern region is widely used to treat a variety of ailments, including rheumatic, dermatologic, gynecologic, urinary, circulatory, digestive, glandular, and, most notably, heart disease. Many visitors to Ilgn Thermal Spring afterwards testify that the water alleviated their ailments. Ilgn Thermal Spring, located 88 kilometres from Konya city centre, contains hydro carbonate, calcium, sodium, and carbon dioxide.
The accommodations at Ilgn Thermal Spring are not fancy, but the waters are curative and useful, therefore many visitors stay for more than one day. The Grand Pek Thermal Resort is a fantastic choice.
Balıklı Thermal Spring in Sivas/Kangal
The Thermal Spring of Balkl, located in the eastern province of Sivas, is distinct from other thermal springs by its little fishes (ranging in size from 2 to 10 centimetres) that are known to heal psoriasis. Balkl Thermal Spring water contains bicarbonate, calcium, and magnesium. These thermal waters are thought to alleviate rheumatism, different skin ailments, vascular sclerosis, and gynecologic issues.
The thermal spring in Sivas is normally visited on a daily basis, however accommodations are available in Kangal Balkl Thermal Spring for those who choose to stay the night.
Çeşme Thermal Spring in Izmir
Çeşme, one of the most tourist-friendly cities in Turkey, is famous for its hot springs, particularly in the Ilca and Sifne districts. The village is easily accessible and has thermal springs, bright blue Aegean waters, and a warm temperature. Due to the climate, you can visit its thermal resorts during the summer and winter; after swimming in the magnificent Aegean Sea, rest in your hotel's thermal pool. Thermal springs in Çeşme provide healing properties for rheumatism, joint illnesses, tissue rheumatism, psoriasis, acne, eczema, varicose veins, vaginal infections, and high or low blood pressure, according to studies done by the Çeşme Hotels Union.
Pausanias, a Greek explorer from the second century A.D., wrote about the thermal spring waters, and hundreds other articles have since been written extolling them.
The newly developed Boyalk Beach & Thermal Spa is an ultimate spot for both a summer and a thermal spring holiday. If you visit in another season, you will be able to appreciate the tranquillity and warm weather of Izmir while also experiencing its thermal springs.
Kestanbol Thermal Springs in Çanakkale
Kestanbol Thermal Springs, located roughly 15 kilometres from the city centre in Anakkale's Ezine district, contains water including chloride, sodium, iron, carbon dioxide, and calcium. Despite the fact that it is little recognised among local and international tourists, the Kestanbol Thermal Spring boasts a number of excellent bath remedies. The springs in Kestanbol have temperatures ranging from 21 to 67 degrees Celsius. There are steam baths and mud tubs available.
Kestanbol Kaplcalar is similar to a boutique hotel in Anakale. The hotel provides thermal pools for family usage, albeit it is not as nice as other well-known thermal springs.
Pamukkale Thermal Spring in Denizli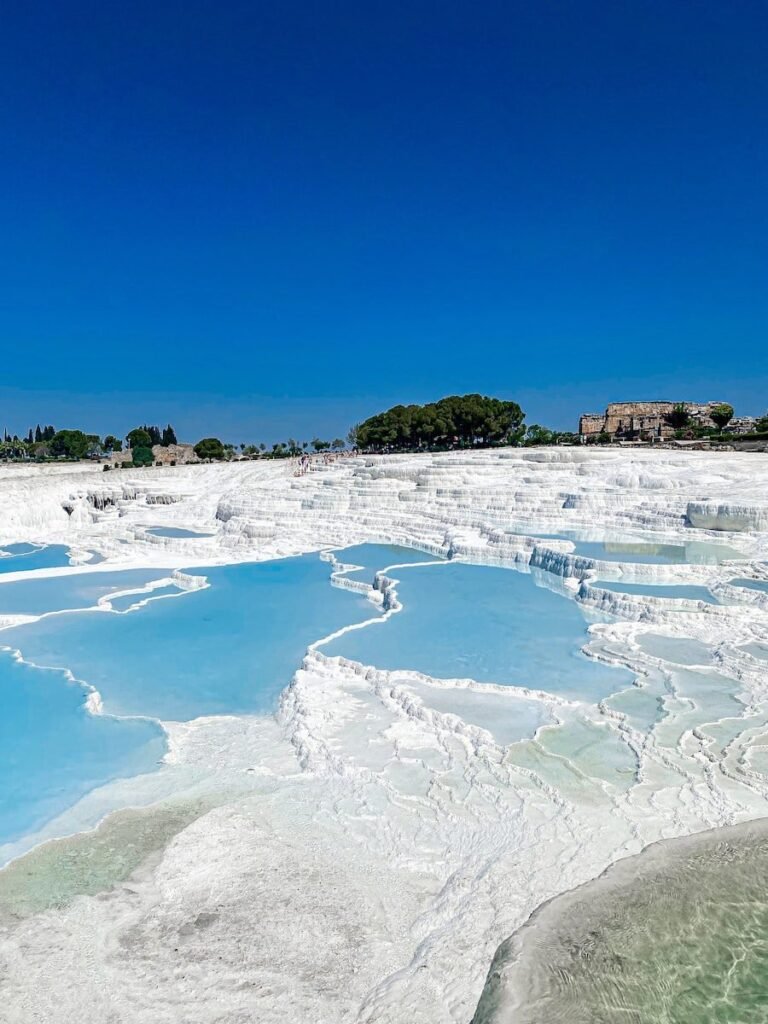 Pamukkale, also known as Hierapolis in Greek and Cotton Castle in Turkish, is a natural gift for people who visit. Pamukkale was inscribed on the World Heritage List by UNESCO in 1988 for its natural and cultural treasures. Pamukkale, located in western Turkey, is well-known for its hot springs and travertines, which are terraces of carbonate minerals left by flowing waters. Pamukkale features three major thermal zones – Sarayköy, Karahayt, and Gölemezli – that contain hot springs and mud baths, as well as relics from different civilizations, natural wonders, and pristine white travertines made by hot calcium-filled mineral waters.
Oylat Thermal Spring in Bursa
Oylat Thermal Spring in negöl district, located roughly 30 kilometres south of Bursa's city centre, is not as popular as ekirge Thermal Springs because it is more difficult to reach. The water in the springs is quite warm, and the steam bath is heated to 40 degrees Celsius. The thermal spring, one of the most curative thermal springs in the region, contains sulphur, bicarbonate, calcium, hydrogen ions, and iron. The water is also drinkable and has numerous sedative properties.
Oylat thermal hotels are of poor quality when compared to other thermal hotels in Bursa. However, Oylat Aşiyan Thermal Hotel is one of the greatest, having a spa centre, thermal water in the rooms, and family-friendly thermal baths.
Çekirge Thermal Spring in Bursa
Bursa, in the northwest, is a thermal sanctuary for tourists, with thousands of visitors each year. The hot springs and thermal baths are located in the Çekirge area of Bursa and are rich in natural treatments such as sulphur and iron, as well as magnesium. Because of their crystal clear view, these springs are also known as "silver waters."
The Tiara Thermal Hotel in Bursa's centre is comfortable and large, with attractive, modern rooms. In this luxurious hotel, enjoy the pure, traditional Turkish bath and spa, as well as the thermal facilities that provide maximum relaxation.
Yalova Thermal Spring
Turkey is the ideal place for psychological and physical renewal, with one of the best climates in the world, unique nature, and one of the healthiest cuisines. Yalova Thermal Spring is one of the best places to spend a thermal spring vacation.
Where to stay: The Thermalium Wellness Park Hotel & Spa, with one main hotel structure and three separate villas, is located in the Uvezpinar area of Termal/Yalova. The main hotel structure has 80 magnificent rooms and four private thermal pools, as well as two outdoor pools, one with cold water and two with hot spring water.